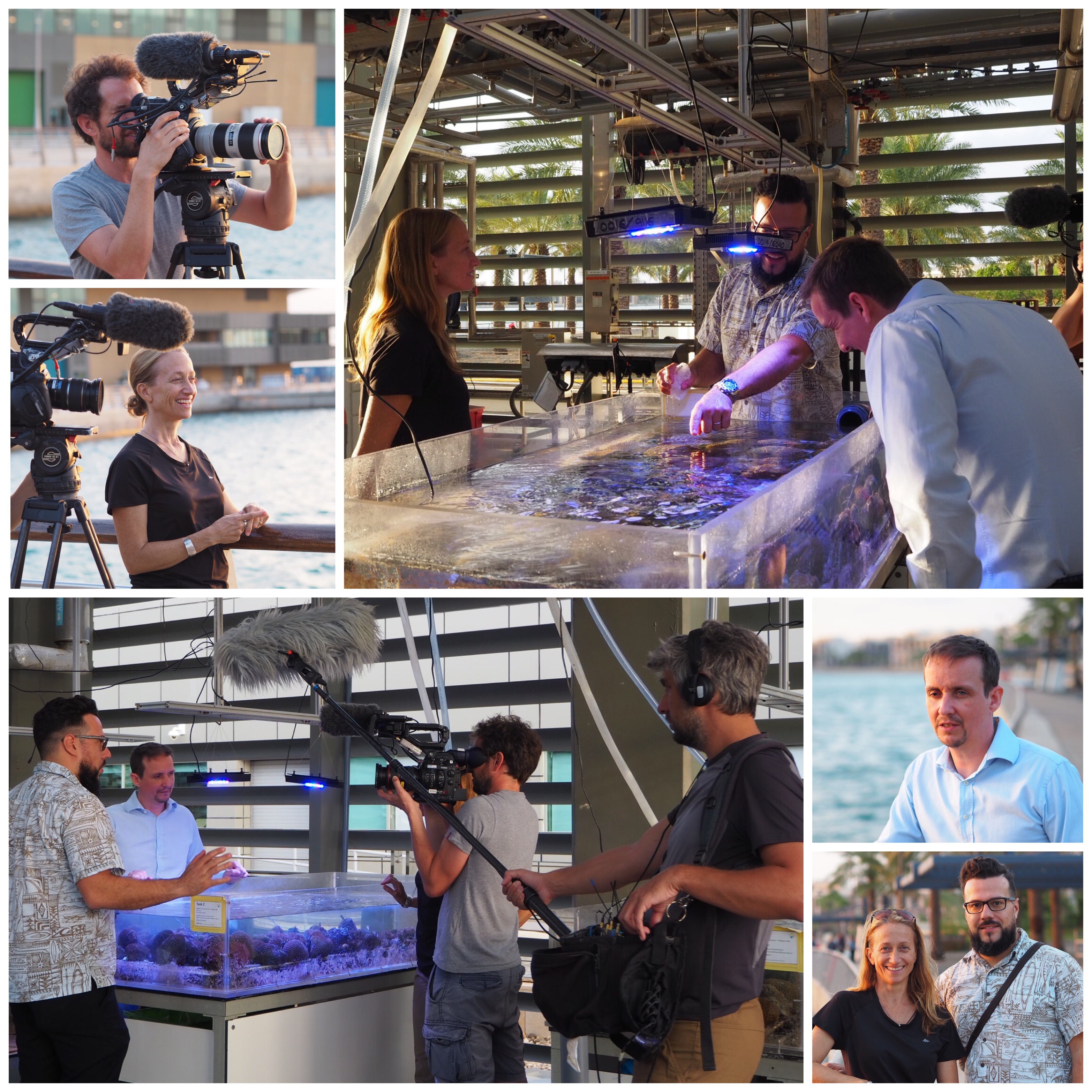 Céline Cousteau, granddaughter of Jacques Yves Cousteau, visits scientists at the Red Sea Research Center to explore current research endeavors.
In early November, Céline Cousteau, socio-environmental advocate, and granddaughter of famous ocean-explorer and filmmaker Jacques Yves Cousteau, visited the Coral Symbiomics Lab at the Red Sea Research Center. She and her team prepared a sequence for a French-produced film documentary. Céline is known for her work as a documentary film director, producer, explorer, public speaker, and artist. She explored a large variety of environments for her work, ranging from the inaccessible Amazon rainforest to remote fiords in Patagonia, always aiming to elucidate how environmental and climatic changes may impact the local human populations and tribes. Placing humans and their environmental connection into the center of her work, Céline has dedicated her career traveling the world to "reconnect the human tribe and raise awareness for environmental issues", she says.
The film crew focused on the Coral Symbiomics Lab's research aiming to understand the potential for assisted gene flow, a technique that aims to transport genetic information from tolerant to vulnerable coral populations via crossbreeding. "The rapid climate change is threatening coral reefs at a global scale and experts predict a gloomy future", PI Manuel Aranda states, stressing the need to "explore innovative solutions to mitigate the impact of climate change and to maintain ecological functionality". The Cousteau crew followed Aranda into the laboratory, where he explained the sensitive relationship between corals and their symbiotic algae, which supply much of the required energy to their host. "The symbiotic algae are the key that allow these extremely diverse ecosystems to thieve in otherwise nutrient-poor environments", explains Aranda. Showing the laboratory coral model organism, the small sea anemone Aiptaisa, under a fluorescence microscope, he elaborated on current research projects aiming to identify the character of the symbiotic relationship using state-of-the-art technologies: "Much of our research aims to understand how the symbiosis of coral and algae has evolved and what the processes at cell-level are, that define this relationship".
The film crew charted an Italian owned Sudanese vessel, the Felicidad II, that visited KAUST harbor during the filming period. Sailing on this ship, Céline followed postdoc Sebastian Schmidt-Roach, who is leading the field work and breeding experiments, into the local coral reefs. "We are in a unique situation at KAUST, having high-tech laboratory facilities and direct field access to coral reef systems in the proximate distance", explains Schmidt-Roach, "and we can rely on excellent support for our marine operations from CMOR, the Coastal & Marine Resources Core Lab Services at KAUST." Diving at experimental sites, the Cousteau crew visited a coral nursery and a common garden experiment, filming Schmidt-Roach working underwater. "It was a great pleasure to meet and dive with Céline and her crew and a unique opportunity to promote and communicate our research to a greater public audience" adds Schmidt-Roach, "we need to raise awareness for the unique treasure Saudi Arabia has in their coral reefs".
"It is great to see the important work these scientists are doing, aiming to protect coral reefs for future generations," says, Céline: "KAUST is an exciting place and there are many more stories to tell in Saudi Arabia".